Victoria James Presents:
The Rosé Project Pop-Up Dinner @ Cote
Victoria James, beverage director at COTE and author of Drink Pink: A Celebration of Rosé, and The Rosé Project invite you to COTE, the Michelin-starred concept from owner Simon Kim, for a multi-course, Korean steak feast by executive chef David Shim along with a range of expertly paired rosé wines.
MONDAY, AUGUST 6TH, 2018
5 to 7 p.m.
COTE
16 W 22nd St, New York, NY 10010
RESERVATIONS
Please email reservation@cotenyc.com or call (212) 401-7986.
Dinner tickets are $200 per person. Includes food, wines, tax and tip. Seating is communal.
To find out more about upcoming dinner series and new programming, check out our Instagram @roséprojectny.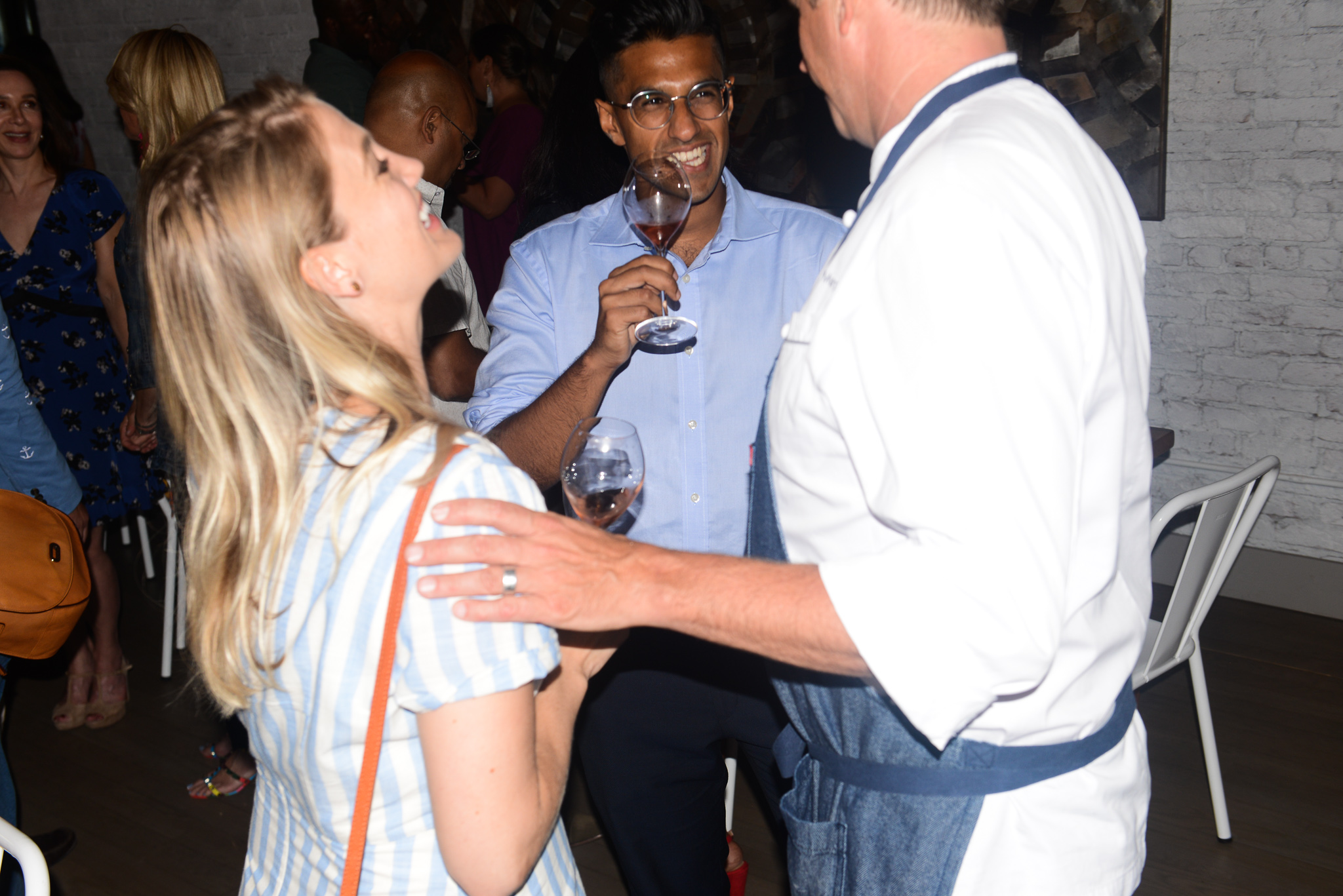 The Rosé Project x The Select 7 Dinner @ Landmarc Tribeca Events with Chef Marc Murphy. Photos: Liz Barclay.
The Rosé Project x The Select 7 Dinner at Landmarc Tribeca Events with Chef Marc Murphy
Chef Marc Murphy kicked off our summer 2018 dinners at the airy Landmarc Tribeca Events space in New York City. The French and Italian-style meal (both signatures of Chef Marc's cooking), featured crispy crab cakes, basil cavatelli and roasted lamb sirloin. Each course was paired with wines from both countries, including Ruinart Rosé Champagne to start, Chateau Gassier Rose, Frescobaldi Alie Rosé, Annona Cerasuolo D'Abruzzo and Archer Roose Rosé in the rosé spritz cocktails. Kimberly Prokoshyn, head sommelier at Scampi in NYC, was on hand to walk guests through each wine, share some background and answer questions about the wines. Flowers by PopUp Florist. Many thanks to Landmarc Tribeca Events, Benchmarc Events, The Select 7, all of the wine brands (listed above) who supported this dinner and Resy, our exclusive ticket sales partner.
The Rosé Project Summer Tasting Event with PAIGE
We curated a rosé tasting + light bites for PAIGE! The lineup included Macari from the North Fork, Smoke Tree from Sonoma, RAMONA wine coolers and Mirabella and Mosnel rosé from Franciacorta. The delicious appetizers by Poppy's in Brooklyn included seasonal veggie flatbread, a cheese platter, summer shrimp rolls and more. Flowers by PopUp Florist.
The Rosé Project popped up at The Wing Flatiron this May! We talked about all things rosé during our panel discussion with some of our favorite women in wine, including Jordan Salcito (founder of RAMONA and Bellus Wines and Director of Wine Special Projects at Momofuku), Victoria James (Beverage Director at Cote and author of "Drink Pink: A Celebration of Rosé" ), Laura Maniec ( Master Sommelier and owner of Corkbuzz ) and Annie Shi (Partner and beverage director at King restaurant in NYC). And, because a rosé event can't exist without rosé drinking, we tasted several unique rosés from around the globe. A special thank you to Macari, Yves Leccia, Charles Joguet and Ramona wines!
In case you missed it, you can listen in on our conversation in on the live conversation (above).
The Rosé Project at The Polo Bar NYC
Who says rosé has a season? Summer ended and we kept drinking rosé straight into fall. We popped up at The Polo Bar in New York City (all-American designer Ralph Lauren's celebrated restaurant) for the night and sipped on some of the country's finest rosés, which were paired with a multi-course menu emphasizing locally sourced ingredients.
The Rosé Project x The Smile's Melia Marden Dinner at The Surf Lodge in Montauk
Chef Melia Marden closed out our final summer 2017 dinner at The Surf Lodge with a bang. To go with her outstanding creations, Vanessa Price of Louis Roederer shared some of special Domaines Ott rosé vintages with us. PopUp Florist Kelsie Hayes also dreamed up a hanging floral display that caught the eyes of The New York Times.
The Rosé Project x Alma at The Standard, Hollywood's Ari Taymor Dinner at The Surf Lodge in Montauk
Chef Ari Taymor, the man behind Alma restaurant at The Standard, Hollywood, (the original Alma was named Best New Restaurant in America by Bon Appetit in 2013), cooked up a feast highlighting his signature dishes, like seafood and tofu beignets, paired with wines by Chateau D'Esclans. Paul Chevalier, of the famed rosé house, was on hand to walk us through each wine and its story.
The Rosé Project x Loring Place's Dan Kluger Dinner at The Surf Lodge in Montauk
Chef Dan Kluger of Loring Place restaurant kicked off our summer 2017 dinner series at The Surf Lodge in Montauk, New York. Along with a delectable menu, there were rosé wines, hailing from Provence to the Canary Islands, curated by head sommelier Kimberly Prokoshyn.
Women in Wine Panel
Bon Appetit's wine editor Marissa A. Ross, along with wine experts Kimberly Prokoshyn, Ashleigh Parsons, Amy Atwood and Kimberly Prokoshyn, schooled us on their favorite natural rosés, why a dark pink wine doesn't translate to sweetness and how to get rid of a hangover. To learn more about our first-ever wine panel, read the feature story in ELLE.